Main Temples
They are the main temples of Happy Science where people can offer prayer and take seminars. The first one opened in 1996, and since then, the number has been increasing with 25 in Japan and 3 in overseas. Members can feel Heaven in close proximity, deepen their faith, make rapid advances in their spiritual training, and discover the Truth that they can practice in their daily life. Anyone is welcome to visit.
Each Happy Science temple is unique with a main concept or theme of that place. It is a special place that directly receives heaven's light, making it possible to look inside yourself and calm your mind. You are sure to be filled with heaven's light and love.
Shojas in Japan and the World
Shojas of Happy Science comes in various shapes and sizes depending on where they are located – four Head Temples as the spiritual center of Happy Science, Shikoku Shoshinkan located on the land on which Master Ryuho Okawa was born, urban-type Shojas in the business districts at the center of Tokyo and Osaka, the Shojas in scenic areas where you can relax in spirit and mind. In countries beside Japan, there are three main temples in Hawaii, Australia and Brazil, and more than 100 local branches and temples.
---
Sohonzan (Head Temples)
Sohonzan Shoshinkan
– The Centerpoint of El Cantare Faith –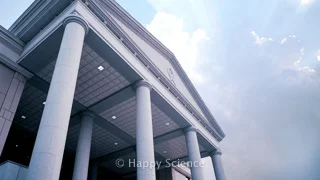 This is the first Happy Science Shoshinkan that was built and opened on August 4th, 1996. A Grand El Cantare Statue stands inside the prayer hall, and it is said that this is where the light of Happy Science flows to other temples around the world.
There are various seminars and ritual prayers available, and people are able to feel deep love and happiness under the concept of relaxation, faith and oneness, when they visit. Countless people have made pilgrimages to this place. The Nepal-Buddha Pavilion, a building originally brought to Japan from a traditional temple in Nepal for the 2005 Expo held in Aichi Prefecture, was relocated then to its current location, standing next to the Shoshinkan today.
Sohonzan Miraikan
– A Spiritual Sanctuary to Open a Bright Future –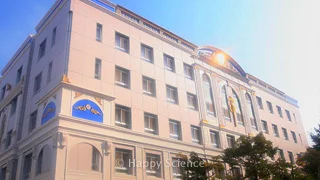 This is the second Happy Science Shoja opened on November 2nd, 1997, located in Utsunomiya city, Tochigi Prefecture. It has a strong influence of love, progress and prosperity from the God Hermes in Greece. When you visit, you will be able to feel the love and prosperity of the Greek civilization.
Sohonzan Nikko Shoja
– Seeking the Deep Enlightenment Buddha Attained –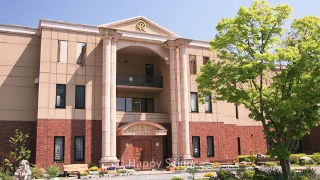 Sohonzan Nikko Shoja is the third Shoja of Happy Science and its mission is to seek "enlightenment" based on the spiritual discipline of the Eightfold Path. It was opened on July 18th, 1998.
By following Master Ryuho Okawa's teachings and earnestly looking within yourself, you can bring back your true self and be able to gain "meditative power" to live life strongly.
"Abandon your weak self and be able to save yourself" – is the main philosophy of the spiritual discipline at this Shoja.
Sohonzan Nasu Shoja
– Great Head Temple to Spread the Descent of El Cantare to the World –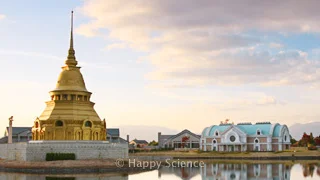 Sohonzan Nasu Shoja is the innermost sanctuary of the head temples, and it is the most mystical Shoja. Opening on May 30th, 2004, it is the fourth Sohonzan of Happy Science. Here, you can seek for a "serene mind" amongst great nature, and aim for serene nirvana. It is a vastly beautiful Shoja, where you will be able to picture and imagine the ideal Heaven while living on this earth. In the same property, there is also the Happy Afterlife Memorial Park.
There is also the Happy Science Academy Junior and Senior High School, founded by Master Ryuho Okawa.
Seichi El Cantare Seitankan
– A sacred place to be 'Reborn & Restart' — where you can start your life anew –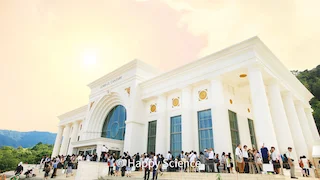 Seichi El Cantare Seitankan was established on November 20, 2016, in the land of Kawashima, Japan, where Lord El Cantare, Master Ryuho Okawa, was born. The Great El Cantare statue, enshrined in the main prayer hall, depicts the sacred form of the Primordial Buddha of the Great Universe and is 7.77m in height.
('Seitankan' means the 'Commemoration Hall of Birth'.) This sacred birthplace, which is filled with great mercy from Lord El Cantare, represents a place for new souls, forgiveness and salvation. Embraced by and under the great statue of Lord El Cantare, you can experience the miracle of being reborn as a new self and restart your life anew. Here, you can deepen your gratitude to the Lord, and make a firm resolution to fulfill your devotion to the Three Treasures.
Seichi Shikoku Shoshinkan
– The Birthplace of Lord El Cantare –
Tokushima, Shikoku is the birthplace of Master Ryuho Okawa. Seichi Shikoku Shoshinkan was opened on July 7th, 2000. Members are able to make a pilgrimage to the Holy Land. The Gohonzon in the prayer hall manifests a young Master Okawa.
There is also the Happy Afterlife Memorial Park in the same property.
---
Main Temples Outside of Japan
Hawaii Shoja
– Paradise Close to Heaven –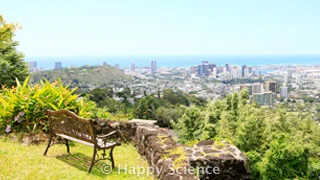 Opened on December 17th, 2006. This was the first Shoja built overseas, and it is surrounded by beautiful tropical nature. Hawaii is also a memorable place in terms of holding the First Turning of the Dharma Wheel Overseas on November 18th, 2007. The title of the lecture was "Be Positive."
Brazil Shoshinkan
– The Center of Faith and Spreading of the Truth in South America –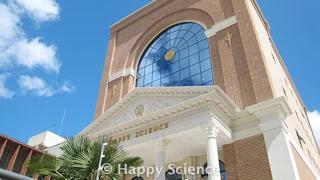 Opened on May 16th, 2010. The prayer hall is dome shaped with a golden El Cantare statue in place. On November 2010, Master Okawa gave two inspirational lectures in this prayer hall.
Australia Shoshinkan
– Producing Leaders of the World –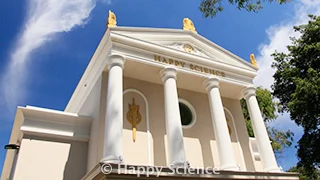 Opened on December 11th, 2011. Built with the aim of nurturing people from all over the world to become leaders to open a new age. The seminars and prayers are conducted in English.
---
Other Main Temples in Japan
Tokyo Shoshinkan
– The Center of Prosperity, and Aiming Ourselves as the World Religion and the El Cantare Civilization –
This is a great lighthouse that sits in the capital of Tokyo, Japan. It opened on December 8th, 2001. There is a Great Dharma Wheel located in the prayer hall, and this is the place where Master Okawa often makes his lectures. When you walk into the building, you will surely be filled with great mercy and hope for a new bright age.
Shibuya Shoja
Shibuya Shoja was opened on November 7th, 2010, and it is located in Shibuya. It is a nine story building, fit for a busy city life. They offer one-day seminars and, and also offer many original seminars given by Master Okawa.
Shinjuku Shoja
– Aiming for the Number One Religion –
This Shoja opened on November 1st, 2006. The main concept of here is to "open the mystical door," and a number original seminars and ritual prayers are held. The seminars are based on a variety of topics that will make your life happier, including studies, love, marriage and success.
Hakone Shoja
– The Shoja of Miracles –
Hakone Shoja opened on August 27th, 2002 and it is said to be "the nearest Shoja to Heaven," with the view of Ashinoko Lake and the beautiful Mt. Fuji. There are powerful seminars and prayers given by Master Okawa, and by taking them, you will experience miracles in your life through faith.
Yokohama Shoshinkan
– Encountering True Happiness –
This Shoja opened on April 29th, 2012, and it is located at one of the tourist resorts. There are 2 special prayer rooms on the 8th floor, and a great Dharma Wheel on the first floor that warmly welcomes the visitors.
Chiba Shoshinkan
– Shoja of the Sun –
This Shoja opened on July 27th, 2005, and it is located near the beach. At Chiba Shoshinkan, visitors will feel El Cantare's mercy and light of prosperity that is like the sun, and be able to bring light to the world.
Niigata Shoshinkan
– Discovering the "Sun" in Your Heart –
This Shoja opened on January 1st, 2008. From the moment you enter the building until the moment you see the image of the Gohonzon (alter) in Zen meditation, you will be in supreme bliss. The nostalgic feeling of the Mu civilization will well up within you, and you will be filled with happiness.
Chubu Shoshinkan
– A sacred site where Master Ryuho Okawa triumphed in the "Conquering of the Devil" –
This sacred place (which at the time was a dormitory) was where Master Ryuho Okawa resided for approximately two years while working at a trading company until he founded Happy Science. It was here where he communicated with various High Spirits, Tathagatas and angels, and published his very first "Spiritual Message" as a book. In May 2003, the building was renovated, preserved and became the "Nagoya Commemoration Hall".
Nagoya Commemoration Hall
– Aiming for Love and Wealth, "Progress from the Middle Way" –
This Shoja opened on April 17th, 2002, and has a beautiful view of the Lake Hamanako. You can feel the energy of happiness and prosperity by relaxing your mind and watching the lake. You can become a person full of love and wealth, in the Buddhist spirit of "Progress from the Middle Way."
Hokuriku Shoshinkan
– Shining the Divine Nature Within –
This Shoja opened on September 7th, 2004. Hokuriku Shoja has a strong Buddhist influence, and hopes to nurture the members with strong faith through Buddhist discipline. You will be able to see your true self as a disciple, by looking deep within yourself in this serene environment.
Biwako Shoshinkan
– Shoja for Changing Your Destiny –
This Shoja opened on December 20th, 1998. It is located near Lake Biwako with the hope of bringing calmness and peace to the visitors' minds. After taking the seminars, your mind will be freed and be able to lead a path of bright destiny.
Osaka Shoshinkan
– Awakening to True Freedom and Create New Success –
This Shoja opened on December 23rd, 2007. It is a beautiful building with a statue of God Hermes on top, bringing prosperity to Osaka.
Chugoku Shoshinkan
– Royal Road to Success Through Faith in El Cantare Faith –
This Shoja opened on April 17th, 2004 and is located near the seaside of the Sea of Japan. Visitors are able to free their spirit, relax, and calm their minds. Through the seminars and the prayers, members gain the courage to open up a bright future.
Yufuin Shoshinkan
– Shoja of Faith and Miracles –
This Shoja opened on July 20th, 1999, and it is surrounded by vast nature.
Fukuoka Shoshinkan
– International Shoja in Asia –
This Shoja opened on November 23rd, 2010 with the concept of bringing peace and prosperity to Asia. It is an eight story building with a book café on the 1st floor.
Okinawa Shoshinkan
– Recalling the Wind of the Aegean Sea –
This Shoja opened on April 17th, 2005 and it is located by a beachside in Okinawa. Okinawa Shoshinkan has a Greek style atmosphere that will heal the mind and raise your passion for bringing happiness to the world. Visitors can feel the spirit of prosperity and a strong energy of hope toward world peace.
Hokkaido Shoshinkan
– The Frontier Spirit –
This Shoja opened on August 7th, 2003, and it is located in the mountains where the city of Sapporo can be viewed. Contemplation in the quiet forest will help the visitor discover their true self. You will attain a frontier spirit that will assist you in opening up a future filled with hope.
Tohoku Tazawako Shoshinkan
– Shoja of Mysticism and Salvation –
This Shoja opened on April 17th, 2003. It is located by Lake Tazawako, and original seminars and prayers are held. The beautiful sapphire blue color of Lake Tazawako will make you feel the deep love of God.
Akita Shinkokan
– Seeking for Pure Faith in Lord El Cantare –
This Shoja opened on March 23rd, 2009, and its concept is world missionary in pure faith.
Sendai Shoshinkan
– Saving the Soul to New Prosperity –
This Shoja opened on July 15th, 2012 with its main theme of saving the soul to new prosperity. There are original seminars and prayers.
Two Types of the Shoja
Urban-type Shojas
Some Shojas such as the Tokyo Shoshinkan and the Osaka Shoshinkan, are located in urban areas to fit people's lifestyles. The locations are bustling, but once you walk into the Shojas, it is a different world, an atmosphere that feels connected to the heavenly world. You can deepen your faith and regain your energy in working toward success and happiness in life, as your mind will be healed in the beautiful prayer halls.
The Shojas in Scenic Areas
By escaping from the hustle and the bustle of the big cities, you can enjoy a relaxing stroll and meditate in a verdant environment. Shojas like the Hakone Shoja, the Yufuin Shoshinkan, and the Biwako Shoshinkan are included in this category. You can look within yourself in a heavenly atmosphere through prayers and meditations, taking a break from your daily life.
Let's Visit Shojas
Happy Science Shojas are located all over the world. There are various kinds of seminars and ritual prayers available, and Master Okawa's lectures are broadcasted via satellite. Happy Science temples have been built across the world, available for you to visit anytime. You can participate in seminars, ritual prayers, watch lectures by Master Ryuho Okawa (via DVDs and satellite), and join us in ceremonies.
Visit Shojas
At the prayer halls in the local branches and temples, and the Shojas (where altars which symbolize El Cantare as a Dharma Wheel or the statue of El Cantare is enshrined), we can pray, meditate, self-reflect, and deepen our gratitude toward Lord El Cantare. Visiting the Shojas on a regular basis is an important practice in enhancing your faith. At the 7th Day Gratitude Service, members visit their local branches and temples, and the Shojas to give their sincere gratitude and pledge. People from all over the world go on a pilgrimage to the four Happy Science head temples which are the Sohonzans and Seichi Shikoku Shoshikan. The following are some of the things you can do and experience when you visit the Shoshinkan, the Shoja, the local branches and temples.
Seminars
Seminars are a great opportunity to reflect on your mind in the light of Truth, and to gain wisdom that will help you find true happiness. Every Shoja provides various kinds of seminars, from a one day seminar to a multiple-day seminar, on subjects of solving personal problems, including human relationships, illness, self-realization, success, business success and so on. At Happy Science seminars, you contemplate deeply on a Koan words of enlightenment, given by Master Ryuho Okawa, through self-reflection and meditation.
Kigan (Ritual Prayers)
Shojas offer various kinds of ritual prayers, such as "Powerful Kigan for recovering from illness," "Prayer for Traffic Safety," "Kigan for Developing in Business" and many more. Prayer is not only a manifestation of your faith, but also a discipline and a pledge. The purpose of the ritual prayers is to resolve one's problems and to become one with the heavenly world. We have had many reports of miracles that happened, such as recovery from cancer and other illnesses.
DVD Lectures
You can watch Master Okawa's lectures on various topics, choosing from his vast collection. However, there are a number of them that can only be watched at certain Shoshinkans or Shojas. During special events, the lectures can be viewed live via satellite broadcast.
Events
There are yearly Happy Science events such as the New Year's Festival, the Day of Great Enlightenment, Celebration of El Cantare's Descent, The First Turning of the Dharma Wheel, El Cantare Celebration, Memorial Service, 7th Day Gratitude and many more.
Memorial Services
Shojas offer memorial services for ancestors. Sohonzan Shoshinkan in particular holds a large memorial service twice a year. By having the memorial services in a spiritual atmosphere like the Shojas, the light of salvation from the heavenly world will surely be delivered to the ancestors.
Weddings and Funeral Services
You can have a Happy Science style Wedding or a Funeral Service at the Shoja. At the wedding, you will pledge to create a harmonious family under El Cantare and the angels in Heaven. Funeral services will be conducted based on our teachings, and will guide the spirit back to Heaven.
Samu (Cleaning Discipline)
This is a traditional Buddhist practice for disciplining and polishing our minds while being in deep contemplation and in a state of "holy silence." It is also a method to increase our gratitude and love for others.
Unsui (Spiritual Discipline)
This is a type of discipline where you distance yourself from the material world and live inside the Shoshinkan or Shoja, being in meditation and in cleaning discipline. People can participate in this as long as 6 months up to 2 years. You will be able to discover your true-self and great wisdom that can be treasured throughout their life.
International Retreats
Happy Science International Retreats are held several times a year in English for members around the world. This is an occasion where many people gather together to refine their minds and enhance their spirituality. Retreats in other languages are also held. They can organize a retreat upon order from individual temple throughout the world. Contact your local branch or local temple to join in one of these retreats.