Lectures
Master Okawa: A World Teacher of True Happiness
---
Master Ryuho Okawa is a World Teacher in true happiness, whose mission is to lay down guiding principles for humanity for the next two to three thousand years. Beginning in 1986, he has given over 3,400 heartwarming and enlightening lectures, at times speaking in front of more than 50,000 audiences at some of the world's largest venues such as the Tokyo Dome in Japan.
His teachings are simple enough for people of all ages and backgrounds to understand, yet deeply profound. By revealing the Truth, beauty, and the value of the world and of life, he is awakens people to their true nature and their potential, so that they may know what real happiness is and how they can achieve it. He also gives practical advice on how to solve the current financial, economic, and political issues on both a national and a global scale. His passion, energy and courage to bring happiness to people all over the world is truly an inspiration to behold.
1986-1993
The Turning of the Wheel of Truth
Master Okawa gave his very first public lecture at Nippori Shuhan-Kaikan in Tokyo on November 23rd, 1986, where 87 people stood witness to the moment. The next lecture he gave was in 1987 in front of 400 people, and the lecture was titled "The Principles of Happiness." It was the starting point of the string of lectures that would reveal the basic principles of Buddha's Dharma, and in building the framework for the teachings of Happy Science.
Reveals Himself as El Cantare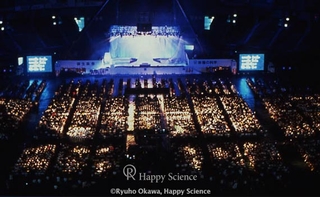 In the lecture of "The Principle of Happiness," Master Okawa introduced the "Exploration of the Right Mind" and the "Fourfold Path" (Love, Wisdom, Self-Reflection and Progress) as a way to explore the right mind. This was followed by lectures in "The Principle of Love," "The Principle of the Mind," "The Principle of Enlightenment," "The Principle of Self-Reflection," and "The Principle of Prayer."
On July 15th, 1991, Master Okawa gave a lecture in front of an assembly of 50,000 people at Tokyo Dome, in which he revealed himself to be El Cantare.
Beginning with a special public lecture in October of the same year, Master Okawa emerged as a national teacher, spelling out suggestions for a wide variety of subjects areas such as politics, economics, foreign diplomacy and social issues.
1994-1999
Establishing the System of Devotion to the Three Treasures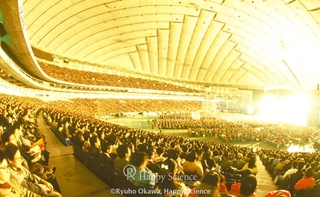 In April 1994, Master Ryuho Okawa revised a fundamental sutra, Bussetsu Shoshinhogo, and a system of devotion to the Three Treasures was established. Furthermore, since October 1994, he has been publicly presenting his opinions on a number of topics such as politics, economics, diplomacy and social problems, in order to help the world take a new step forward in social reformation. Just before the end of the 20th century, the movement for salvation was powerfully carried out.
2000-2006
Heading for the Golden Age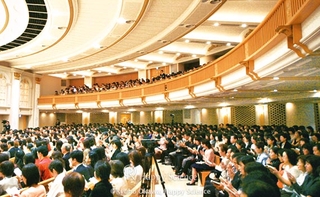 In 2000, the movie The Laws of the Sun was released. Master Ryuho Okawa presented a resolution for the Golden Age to commence in 2020, as described in the book The Golden Laws.
2007-Present
Master Okawa's World Missionary Tour to "Spread the Truth to the World"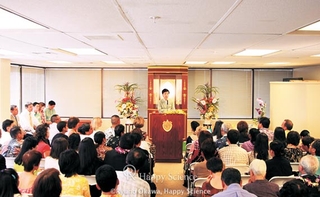 In 2007, Master Ryuho Okawa embarked on his national missionary tour, energetically lecturing all over the country in both small and large venues, sharing his vision for the new era, preaching on faith, love, courage, and encouraging people to take action in the aim of creating utopia on Earth.
On November 18th, 2007, Master Okawa gave his first official lecture overseas in Hawaii. In this historical lecture, Master Okawa declared himself to be El Cantare to the entire world. This marked his transition from a national teacher to a "World Teacher" and a Grand Savior, whose mission is to bring salvation to all of mankind.
Since then, he has been giving lectures in English for the ever-growing number of believers abroad, in New York, Los Angeles, San Francisco, London, Seoul, Taipei, Sydney, Sao Paulo, Brazil, India, Philippines, Hong Kong, Singapore, Malaysia, Sri Lanka, Uganda, Germany, and Canada.
Revealing the Laws of the Universe, and How to Prepare for the Upcoming Space Age
Not only is Master Ryuho Okawa preaching on the existence of the Spirit World, but he works to open people's minds to accept the existence of extraterrestrial life. In early 2010, Master Okawa began conducting "space people readings," or channeling to the souls whose origins or past lives are from others stars and planets, to gather information on other life forms in the universe.
In an important lecture given at Yokohama Arena in front of an audience of 10,000 people on December 4th, 2010, Master Okawa declared that one of his missions amongst many is to develop a civilization of mankind further enough so that we may enter Space Age. A number of extraterrestrial beings are living on Earth today, and are waiting for mankind to rise to the level in which they can begin communicating and interacting with them on an equal ground. The Laws of the Universe is the foundation upon which human beings will be able to communicate with and understand other beings from outer space.